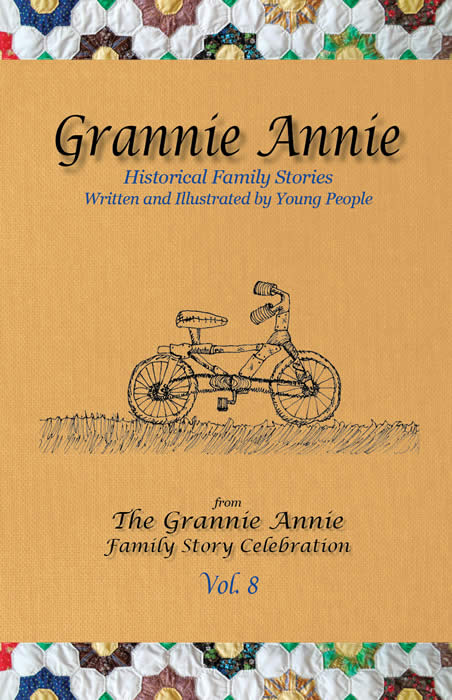 Grannie Annie, Vol. 8 — Paperback and PDF editions
Selections from The Grannie Annie Family Story Celebration
Crawl under, climb through, and run for your life with the family members whose stories are captured in this eighth volume of Grannie Annie!
In addition to engaging tales about clever youngsters and life way back when, this year's collection provides plenty of adventure. Explore new heights jumping on the first trampoline. Hide, quickly—in your closet, deep in the woods, under a stack of mattresses or, miraculously, in a hole in the ground. As disaster approaches, shout Nooooo!—in English or Chinese. "Share" your home with soldiers. Survive war; stand up for peace.
These thirty-five historical family stories span nearly one hundred years, from the debut of cotton candy at the 1904 World's Fair to the hilarious antics of one of the greenest dads of the new millennium. The stories circle the globe, taking place in North America, Asia, Europe, and Africa.
Anthology Copyright 2013; 5 3/8" x 8 3/8"; 104 pages; Color cover, Black-and-white interior art. Sneak a peek at the book. Read the stories.
Note: We're sorry—our shopping cart is not equipped to accept orders and donations in the same transaction. After you complete your order you will have the opportunity to make a donation.
$10.00 per copy of Volume 8 — Paperback edition
$5.00 per copy of Volume 8 — PDF edition
Click here to order other volumes