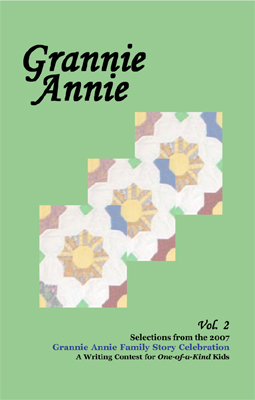 Grannie Annie, Vol. 2
Selections from The Grannie Annie Family Story Celebration
Grannie Annie, Vol. 2, is a miniature "history of the world" that reads like your grandparent's journal. The family stories, which span several centuries and four continents, bring to life historical events and unfamiliar cultures. These tales of family life, adventure, hardship, and triumph entertain and educate us. Even more than that, our stories connect us.

Again this year we received many stories set in difficult times or dangerous situations. Recognizing that it is through challenge that we grow, we have included stories of families separated by war or handicapped by poverty. We've included stories of children thrust into adult roles and of family members facing prejudice. These important stories will surely raise important questions—questions about poverty and justice, stereotypes and peace.

We believe you'll find that the twenty-six stories in Grannie Annie, Vol. 2 have a special ability to inspire and motivate. We also believe that by learning from our past we can face the future with greater confidence and vision.
The stories included in this volume were written by students in U.S. grades 4–8 or by homeschool or international students ages 9–14 based on interviews with their family storykeepers.
Anthology Copyright 2007; 5 3/8" x 8 3/8" paperback; 83 pages; Color cover, Black-and-white interior art. Sneak a peek at the book. Read the stories.
Note: We're sorry—our shopping cart is not equipped to accept orders and donations in the same transaction. After you complete your order you will have the opportunity to make a donation.
$10.00 each
Click here to order other volumes