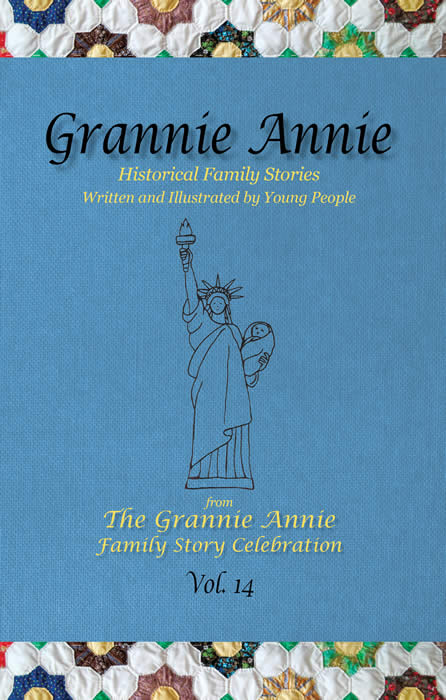 Grannie Annie, Vol. 14 — eBook, PDF, and Paperback editions
Selections from The Grannie Annie Family Story Celebration 2018/2019
In Grannie Annie, Vol. 14, you can join many families on life-changing, unforgettable journeys. Some are journeys the families choose, others are journeys forced on them. You'll travel by land, sea, and air — and in your imagination. You'll find many surprises along the way — some thrilling, others challenging. The stories might raise questions: When should I leave a home I love? How could I survive without loved ones? How would I make a new home in an unfamiliar place?
You'll see family members risking their lives to stand up for their beliefs — or for the rights of others. You'll see people who are viewed very differently by different people. You might wonder: Who deserves respect or honor? When should I fight, and when should I cooperate? When should I disobey an order? What makes a hero?
And you'll have a chance to have fun — with family, friends, and pets. A pastime might help you see yourself in a new way or might become important to your family for generations.
The thirty-eight stories in this volume represent the 536 stories submitted to The Grannie Annie this year. The stories take place in 16 U.S. states and in 19 countries on three continents over a span of 356 years. The stories entertain, educate, and inspire us — and remind us of the resilience of the human spirit. Our volunteer readers chose these stories with you and your family in mind, yet you may want to preview the stories before sharing them with young or sensitive readers.
We're so pleased that you've joined us! We encourage you to discover and preserve some stories from your ownfamily's history. And we hope that you'll join us again next year for The Grannie Annie Family Story Celebration.
Connie McIntyre and Fran Hamilton, Directors of The Grannie Annie
Anthology Copyright 2019; 38 family stories, representing all the stories submitted this year; Color cover, black-and-white interior illustrations. Read the Vol. 14 stories on this website.
DIGITAL EDITIONS, VOL. 14: Click here to download the complimentary eBook and PDF editions of Grannie Annie, Vol. 14.
PAPERBACK EDITION, VOL. 14 — $10: Click here to order Grannie Annie paperback books and for information about quantity discounts and shipping.
Click here to return to the main Books page.