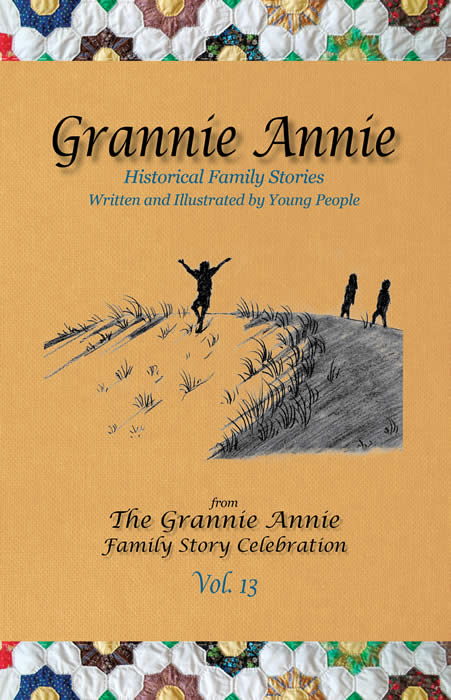 Grannie Annie, Vol. 13 — eBook, PDF, and Paperback editions
Selections from The Grannie Annie Family Story Celebration 2017/2018
You're invited to watch an American Civil War battle from your front porch, then journey by ship and train, on a school bus and in a lonely camper trailer — even in a junkyard cart — through the inviting pages of Grannie Annie, Vol. 13. You'll visit ten states and thirteen countries, and meet everything from surprise to despair to unbelievable kindness.
You won't be alone. You'll be traveling with some of the bravest and most imaginative family members around — standing up to slavery and bulldozers, and standing up for us all by carrying a coal bucket; planning a narrow escape and planning a thrilling date. There will be questions along the way: When is it okay to cry? When is it okay to run?
There's a chance you might sink or swim. Or you might be dancing in the street or singing with the radio and then BAM! You might decide to live every day, for love.
So much entertainment, education, and inspiration in this one small book! It's a hopscotch trip through the 528 priceless stories shared with The Grannie Annie this year. Our volunteer readers chose the stories in this collection with your family in mind, yet you may want to preview them before sharing them with young or sensitive readers.
We're so pleased that you've joined us, and we hope you'll travel with us again next year through The Grannie Annie Family Story Celebration!
Connie McIntyre and Fran Hamilton, Directors of The Grannie Annie
Anthology Copyright 2018; 35 family stories, representing the 528 stories submitted this year; Color cover, black-and-white interior illustrations. Read the Vol. 13 stories on this website.
Note: We're sorry—our shopping cart is not equipped to accept orders and donations in the same transaction. After you complete your order on TheGrannieAnnie.com you will have the opportunity to make a donation.
Ordering options: You can order Grannie Annie, Vol. 13, below by credit card via PayPal, or by calling The Grannie Annie at 636-527-2822. Purchase orders are welcome; they can also be mailed to The Grannie Annie, PO Box 11343, St. Louis MO 63105.
$10.00 for eBook and/or PDF edition of Volume 13; Unlimited downloads
$14.95 for Paperback edition at Lulu.com. In addition, The Grannie Annie often has paperback copies of various past volumes available at the reduced price of $10 each; you are welcome to contact The Grannie Annie to inquire.
Click here to order other volumes