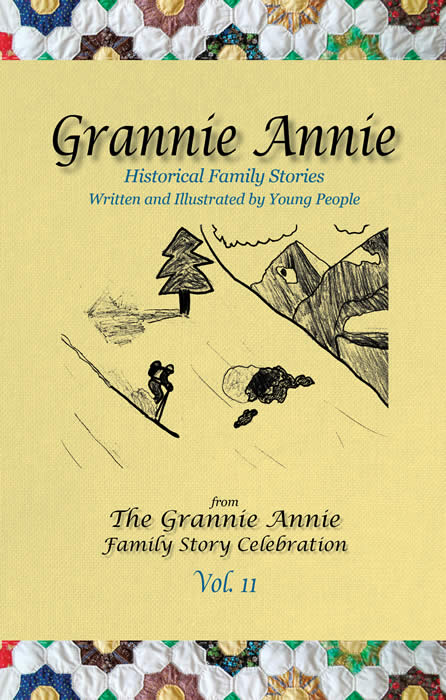 Grannie Annie, Vol. 11 — eBook, PDF, and Paperback editions
Selections from The Grannie Annie Family Story Celebration
The Grannie Annie is pleased to bring you its eleventh annual volume of historical family stories — the first to also be published as an eBook! Now you can "have your eBook and share it, too": You are free to pass the eBook edition on to anyone you think may be interested. What a gift you'll be giving — not only a collection of amazing stories, but also the opportunity to discover and share their own family's stories.
The thirty-six family treasures included here span nearly 150 years and four continents — and the range of human emotions! In these memorable stories, readers meet family members who are brave, selfless, or fearful; resilient, angry, or proud; creative, relieved, or clever. You'll meet some family members who think quickly, on a mountain path or in Nazi-occupied Norway. Others do their best to make themselves comfortable in horse stalls or on fishing boats. One shakes his head at his own foolishness; another laughs at his own naïveté.
Story illustrations created by students from the same age group as the young authors add to the appeal of this charming eleventh edition of historical family stories.
Anthology Copyright 2016; 36 family stories, representing the 555 stories submitted this year; Color cover, 12 black-and-white interior illustrations. Read the Vol. 11 stories on this website.
Note: We're sorry—our shopping cart is not equipped to accept orders and donations in the same transaction. After you complete your order on TheGrannieAnnie.com you will have the opportunity to make a donation.
Ordering options: You can order Grannie Annie, Vol. 11, below by credit card via PayPal. You can also order by calling The Grannie Annie at 636-527-2822. Purchase orders are welcome; they can also be mailed to The Grannie Annie, PO Box 11343, St. Louis MO 63105.
$10.00 for eBook and/or PDF edition of Volume 11; Unlimited downloads
$14.95 for Paperback edition at Lulu.com. In addition, The Grannie Annie often has paperback copies of various past volumes available at the reduced price of $10 each; you are welcome to contact The Grannie Annie to inquire.
Click here to order other volumes