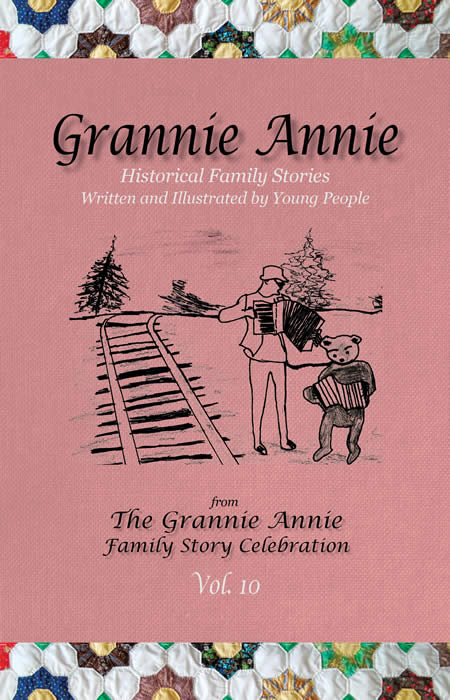 Grannie Annie, Vol. 10 — Paperback and PDF editions
Selections from The Grannie Annie Family Story Celebration
Your journey through Grannie Annie, Vol. 10, begins with a visit from Union soldiers, and ends over a century later with more unexpected callers at the door. Between the two, you'll find family members involved in a world of memorable adventures and challenges, as well as in some hilarious predicaments!
The thirty-five stories in this year's collection will carry you from the United States heartland to Puerto Rico and Honduras; from Nigeria to Israel and on to Europe; and across Asia, to China, Japan, Vietnam, and Malaysia.
On your tour you'll meet some family members who think they're getting exactly what they want, and others who get a second chance. You'll witness some family members acting out of conviction, or fear, or hunger; some acting from the heart, with great courage; and others making sweet deals that last. At times, you'll discover, things are not as they seem. You may find yourself asking what you would risk for freedom, or what you would risk on a dare. What would you risk for half a loaf of bread, or to read a banned book?
Story illustrations created by students from the same age group as the young authors add to the appeal of this charming tenth edition of family stories.
Anthology Copyright 2015; 5 1/2" x 8 1/2"; 100+ pages; Color cover, Black-and-white interior art. Sneak a peek at the book. Read the stories.
Note: We're sorry—our shopping cart is not equipped to accept orders and donations in the same transaction. After you complete your order you will have the opportunity to make a donation.
Ordering options: You can order Grannie Annie, Vol. 10, below by credit card via PayPal, or by calling The Grannie Annie at 636-527-2822. Purchase orders are welcome; they can also be mailed to The Grannie Annie, PO Box 11343, St. Louis MO 63105.
$10.00 per copy of Volume 10 — Paperback edition
$5.00 per copy of Volume 10 — PDF
Click here to order other volumes