2016/2017
Vol. 12
The Day My Uncle Met a Wizard
1985; Oklahoma City, Oklahoma, and St. Louis, Missouri, USA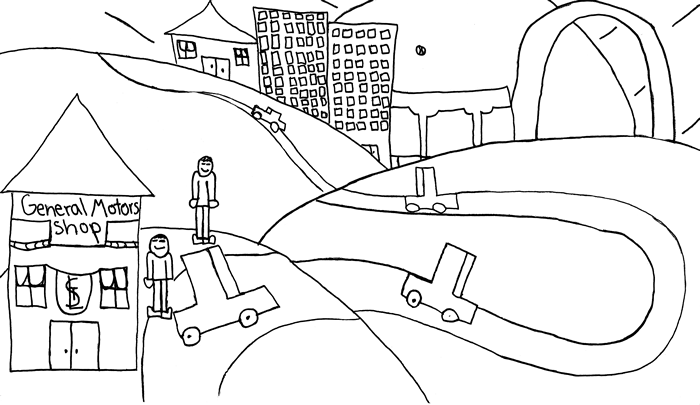 Have you ever heard of a real life wizard? Guess what! My uncle met one, and he was a famous one. My uncle got the chance to meet one of his heroes, and it was the adventure of a lifetime.
It all started in the month of October 1985, which means "baseball" to my uncle. This year the Cardinals were playing the Dodgers in the playoffs. My uncle's favorite player at the time was Ozzie Smith. It was Monday and just a normal day at the General Motors shop in Oklahoma City, which was where my uncle Marty worked. People from all over the country worked there, and they knew Marty was a big Cardinals fan. He had posters, baseballs, and pictures all over his office. It was about time to leave, so Marty packed up and headed out for his walk home from work. On that walk home something unforgettable happened. My uncle was almost home when he ran into a small gentleman.
The gentleman asked, "You a Cardinals fan?"
My uncle said, "You bet I am."
There was a short pause. Then all of a sudden my uncle said, "Come down to my office tomorrow. I've got some cool merchandise."
So the next day my uncle went into work relaxed, waiting for his day to begin, when he saw the old man standing at his office door looking at all the things my uncle had.
When the old man realized my uncle was there, he asked, "So who's your favorite player?"
My uncle said, "That guy right there, The Wizard," while pointing at a picture of Ozzie Smith.
Then, surprisingly, the old man said, "He's my son."
My uncle looked at him awkwardly and said, "No way."
The old man said, "He sure is. You know — How would you and your wife like to go to the playoff game tomorrow night with me and my wife, Marvelle?"
My uncle said, in amazement, "You bet!"
That next day my uncle was ready for the game. The old man called and said, "So you ready?"
My uncle replied, "Yes, I am. What time are we heading down?"
The old man said, "We will follow each other to my son's house, and then from there head to the stadium." So as told, my uncle followed the man and his wife for nine hours to the wonderful St. Louis house of Ozzie Smith.
My uncle was so excited to meet his favorite athlete. They walked into the house, and the old man introduced my uncle to Ozzie and his wife. They talked for a long time, and then finally they made their way down to the stadium. When they arrived, my uncle got the best seats, and he also had a very good feeling about the game.
It was the ninth inning when Ozzie Smith made history. "Go crazy, folks! Go crazy!" The stadium went berserk. Ozzie Smith had hit a walk-off home run, left-handed, to beat the Dodgers.1 I guess my uncle was right when he had a good feeling about the game.
Jack Lafata; Missouri, USA
Illustrator: Peter Underwood; Missouri, USA
1. In 2005, Cardinals fans voted this spectacular home run by Ozzie Smith the greatest moment in the 40-year history of Busch Stadium.
This copyrighted story may be copied and/or printed for limited classroom or personal use. To reprint this story in an article about The Grannie Annie, please contact The Grannie Annie Family Story Celebration for permission.
Return to Vol. 12 Stories page