10th Anniversary Volume:
Echoes from World War II
Young Authors Sharing Family Stories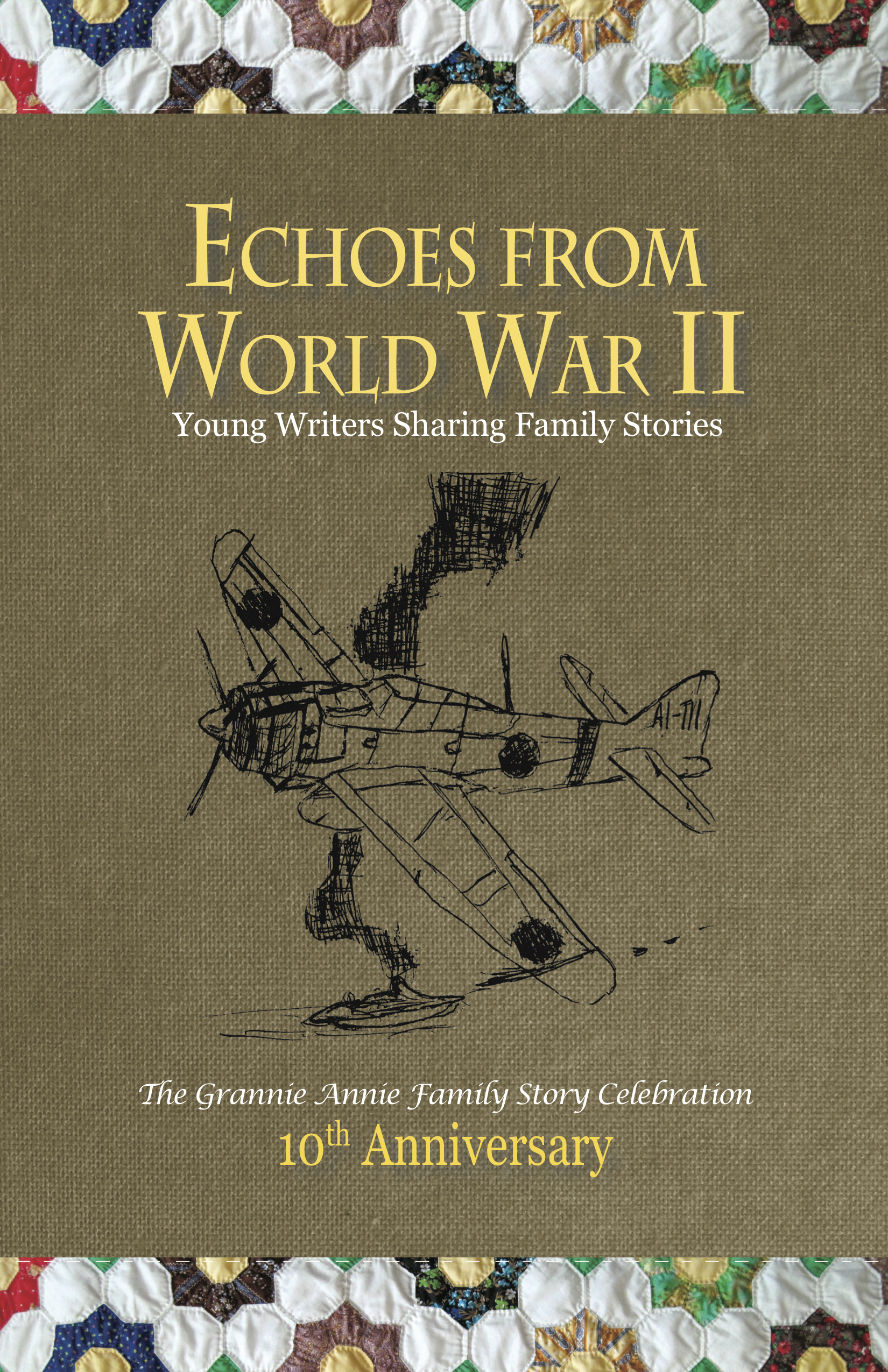 Order Echoes from World War II (paperback and eBook editions available)
News about Echoes from World War II
The family stories in this book are remembered from battlefields, prison camps, and homes in twenty countries around the world. Passed down through generations, these compelling stories honor family members who courageously faced their challenges—many bravely living out their beliefs and celebrating their blessings. Sharing these stories sends echoes of inspiration, strength, and courage throughout our world today.
"The stories included here offer personal and powerful perspectives on World War II and what it meant to the people who lived through this period in our history. . . . These young authors—these young historians—are doing incredibly important and engaging work."—Jody Sowell, Director of Exhibitions and Research, Missouri History Museum
— Discounts on Echoes from World War II are available for teachers, published families, and institutions.
Please contact The Grannie Annie for details.
— Press page for Echoes from World War II
The Annual Grannie Annie Books
The mission of The Grannie Annie includes the celebration of family stories. Sharing family stories in a book is a wonderful way to celebrate! The annual volumes below are available in a variety of editions - paperback, PDF book, and eBook.
The stories published in the Grannie Annie books (and on this website) have taken place on six continents over a span of nearly 400 years, and were written by student authors from five countries. The stories include humor, adventure, hardship, and triumph. They help to connect readers with people from other places and other times — they remind us of the fundamental experiences common to us all.
You're bound to find the Grannie Annie stories as amazing — and inspiring — as the student authors did. And with The Grannie Annie Index of Stories, you can easily locate stories on a particular topic. Share these books with your family, your friends, your school, your neighborhood retirement home, and others — then watch the stories multiply!
Order Grannie Annie
| | | | | |
| --- | --- | --- | --- | --- |
| | | | | Volume 11 |
| Volume 10 | Volume 9 | Volume 8 | Volume 7 | Volume 6 |
| Volume 5 | Volume 4 | Volume 3 | Volume 2 | Volume 1 |

Click on book covers for information and to order by credit card via PayPal.
Volumes 2–10 in paperback — only $10 each. (Vol. 1 is sold out. Vol. 11 paperback is available through Lulu.com.)
Ordering options: You can order Grannie Annie as explained above (by credit card via PayPal) or by check using this printable order form. You can also order by calling The Grannie Annie at 636-527-2822 or 1-888-641-5353, toll free. Purchase orders are welcome and can be faxed to either of the numbers in the previous sentence.
Catch-Up Offers:
One each of the paperback editions of Vols. 8–10 for $25 (See below for Vols. 11-12)
One each of the paperback editions of Vols. 2–10 for $70 (Sorry: Vol. 1 is sold out. Click on the book covers above to order paperback editions of Vols. 11-12 through Lulu.com.)
Note: We're sorry—our shopping cart is not equipped to accept orders and donations in the same transaction. After you complete your order you will have the opportunity to make a donation.