2018/2019
Vol. 14
Perils of War
1918; the Marne, France; and Villingen, Baden, Germany
World War I was a conflict so bloody that many thought it would end war forever, exposing combat as both barbaric and futile. My great-great-uncle O. L. "Pat" Mowry fought in this conflict. The loss of life was catastrophic, and many American soldiers died in battle, far away from home.
The war in which Uncle Pat Mowry found himself was fought in hundreds of places around the globe. It was a terrible and deadly conflict that took the lives of millions. The machine gun stopped advancing armies in their tracks, forcing them to dig into the earth for their survival. Trench warfare was the result. Men lived and died in long rat-infested troughs. But thanks to mortar fire, digging into the earth wasn't that safe. A mortar could fire a 100-pound exploding shell nearly 4,000 feet. The shells went high into the air, coming down directly into the trenches and blowing soldiers to pieces. On the way down, the shells made a screaming noise so that the soldiers knew when the shells were about to hit. Uncle Pat described the sound as pure terror.
Uncle Pat witnessed soldiers crawling into their blankets and weeping, unable to recover from what was then known as "shell shock."1 He described the terrible carnage to his family back home: "Those who could handle this new kind of combat risked being ripped to shreds in the trenches any time a shell exploded, and thousands had limbs blown away from their bodies in the violent blasts; others were permanently deafened or blinded or hideously maimed."2
Early on the morning of March 10, 1918, Uncle Pat's battalion was overcome by a German poison gas attack. Hand-to-hand combat followed, and Uncle Pat was shot and beaten senseless. Those Americans who were not killed were forced to surrender. Because Uncle Pat was an officer, he was taken to an officers' prison camp, where the Americans were treated decently and given medical attention.
That year an illness then known as "le grippe"3 spread all over Europe, killing millions. Today we know this illness as influenza, the flu. Influenza was the enemy that killed Uncle Pat.
The Germans had Uncle Pat hospitalized, and just when they thought he was stable, he passed away. His German captors paid for his funeral, provided a casket and buggy, and attended the funeral procession themselves as a sign of respect. They also photographed the procession and provided his family with the pictures.
Uncle Pat's story reminds us not of the glory of combat but of the terrible perils of war — war's reality. Uncle Pat's life was full of adventure and travel, yet it ended suddenly and far too early. My grandfather says that Uncle Pat's sister Maude Mowry could hardly speak his name after his death, preferring to remember him in his youth, before the terrible war and the tragic series of events that took his life.
Hadley M. McConkey; Missouri, USA
1. "Shell shock" was a mental disorder brought on by the emotional and psychological stress of war or other trauma. Today we would call it PTSD (posttraumatic stress disorder).
2. From "Pat" Mowry correspondence in the McConkey Family Archive.
3. "Le grippe" is pronounced "luh GRIP." This influenza was the deadliest epidemic in history, killing 50 to 100 million people worldwide.
This copyrighted story may be copied and/or printed for limited classroom or personal use. To reprint this story in an article about The Grannie Annie, please contact The Grannie Annie Family Story Celebration for permission.
Photos below are compliments of the author's family.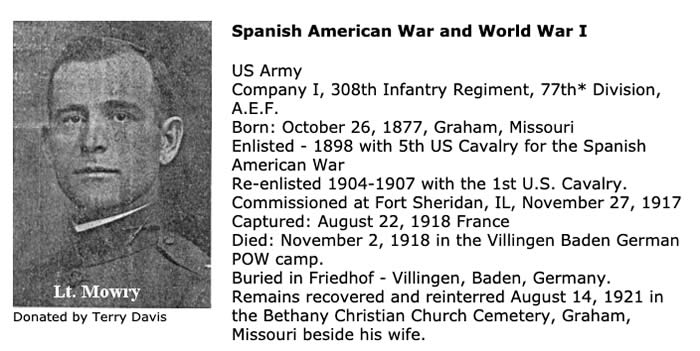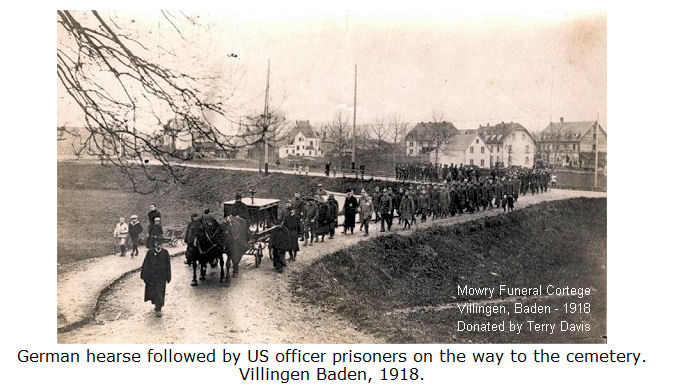 Return to Vol. 14 Stories page