2016/2017
Vol. 12
It's a Family Tradition . . .
1950s – present; Blue Hill, Nebraska, USA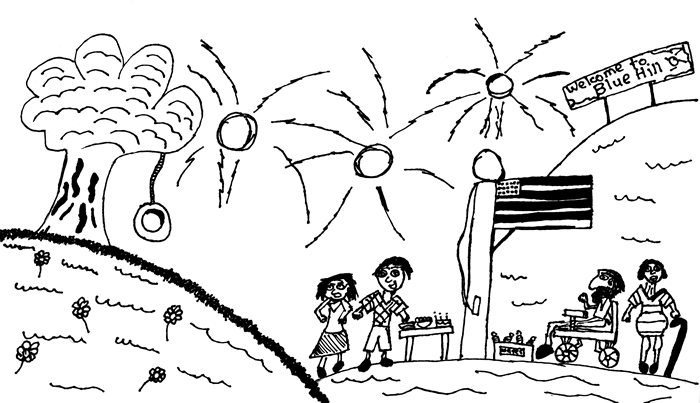 What started as a fun family event over sixty-five years ago has turned into an annual highlight of the Blue Hill, Nebraska, Fourth of July festival. In the early 1950s my great-grandfather Gilbert (Gib) Schunk started doing a fireworks show for his family and some close friends in Blue Hill. This small family event has developed into an all-day family-fun Independence Day celebration.
My grandpa Roger Schunk was born in 1947, and when he was only three years old, his dad, Gib, started lighting off fireworks for his family and some friends. When the fireworks first started, there was a potluck dinner beforehand, and anyone was welcome to come for dinner and stay to watch. My great-grandpa Gib and his wife, Anna, owned a hardware store, so they were able to order special fireworks to light off.
The number of people attending started to grow, because the fireworks show became popular in the small town. The city of Blue Hill approached my great-grandpa Gib around 1967 and asked him to put on a fireworks show for the whole town. Within a few years the Community Club started to provide a pork barbecue before the fireworks show. Soon after, a parade was added before the barbecue dinner. My great-grandpa Gib passed away in February of 1981, so my grandpa Roger took over the fireworks show for him. Today the Blue Hill Fourth of July festival includes golf, softball, and sand volleyball tournaments, kids' games, and a classic car show in addition to the parade, barbecue, and fireworks.
Managing a fireworks show as big as this is a lot of work. Each year my grandpa Roger is required to have a license to light off the fireworks. He orders the fireworks in early April and requests permits in late May. The fireworks are delivered in mid-June and get organized into the order of the show.
On July 3 my grandpa Roger and some helpers dig about a dozen holes to put the fireworks in when lighting them. These holes are dug on the Blue Hill golf course, which is where the fireworks show takes place. On the morning of the show, my grandpa Roger makes sure all of the supplies are ready and organized. It takes about fifteen volunteers, including my uncle Mike and uncle Terry, to make the show run smoothly. Starting at 9:45 p.m., under my grandpa's direction, the volunteers light almost three hundred fireworks. These fireworks are a mixture of ground displays, high-flying colorful bursts, and loud boomers, which are my grandpa Roger's favorite.
This fireworks show is the highlight of a fun-filled Independence Day celebration. It is enjoyed by people from Blue Hill and surrounding communities. The fireworks show is a tradition my family is very proud to have started and carried on for so many years. My grandpa Roger passed away on January 10, 2017, so this year my uncles will take over this tradition, which I know would make my grandpa Roger very proud.
Anna Kohmetscher; Missouri, USA
Illustrator: Will Evans; Missouri, USA
This copyrighted story may be copied and/or printed for limited classroom or personal use. To reprint this story in an article about The Grannie Annie, please contact The Grannie Annie Family Story Celebration for permission.
Return to Vol. 12 Stories page