2018/2019
Vol. 14
Forty-Eight Years
1862, 1910; Cades Cove, Tennessee, USA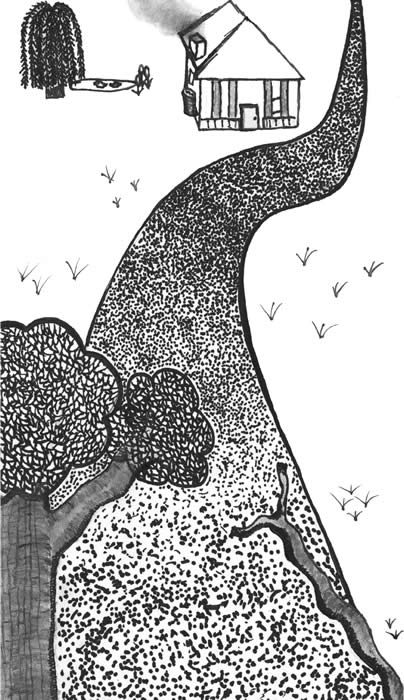 The sweet grass waved gently in the breeze, reflecting the sun's light on Carter Shields's face. A smile shone upon him as he looked at the glade. It was dotted with broad, green-leaved dogwood trees casting shadows over the dusty dirt path leading up to a wooden cabin. Its chimney was made of stone, the top melting into the shingles tiling the roof. The sides were made of horizontal wood, going from darker to light and back again, and a small porch sat out in front, with four strong beams supporting the overhanging roof. There was a window to the right of the door, as well as two windows on the side of the cabin — a tall, thin one below a shorter, fatter one.
Carter took hobbly steps toward his new cabin, the one he had chosen to retire to, right in the same place he'd been born and raised — Cades Cove, Tennessee. But he had been born a long time ago, back in 1844. Now it was 1910 — forty-eight years since he had been wounded, forty-eight years since the Battle of Shiloh in April of 1862.
The South was in Carter's blood, so when the Civil War1 broke out, he'd known he had to fight for his people. He'd joined the Confederacy and had become a part of the 6th Tennessee Infantry Regiment, organized in May 1861 at Camp Beauregard, Jackson, Tennessee. Carter's involvement in the military was cut short on one fateful day — April 6, 1862.
As his regiment had neared the battle, Carter could feel his heart beating in his chest, like the drum of thunder after a flash of nerve-wrenching lightning. Soon the soldiers were given the signal to attack, and suddenly the air was filled with shouts and cries of anger, fear, and pain. In the thick of fighting, Carter didn't remember much of what he saw — just flashes of gray and blue uniforms, and gunfire ringing in his ears like an echo in a deep canyon. He couldn't tell how long it had been, but some Federal soldiers made stands against the Confederates, and the fighting lasted longer than he could remember.
At some point, when he was sweating and struggling to stay on his feet from tiredness, Carter had felt excruciating pain in his hip. All he recalled was being carried off the battlefield, his view being blotted out by dark clouds that faded in and out — just a few clips of things that no longer fit together, and most of all, the pain in his leg.
Carter Shields left the military and was forever crippled by his wound in the battle of Shiloh; it is unknown if he was hit by a bullet or artillery. He retired to his cabin in Cades Cove in 1910, living there until 1921. He was born February 5, 1844, and died on November 20, 1924, at the age of eighty. He is buried at Maryville, Tennessee. Carter Shields was my great-great-grandfather's uncle, and his cabin still stands in Cades Cove today.
Maddy Pense; Missouri, USA
Illustrator: Emma Holmer; Missouri, USA
1. In the U.S. Civil War, the Confederacy was a group of Southern states that had left the United States and formed a new country. They fought the Union Army, which represented the United States, or "the North."
This copyrighted story may be copied and/or printed for limited classroom or personal use. To reprint this story in an article about The Grannie Annie, please contact The Grannie Annie Family Story Celebration for permission.
Return to Vol. 14 Stories page